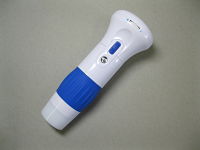 The WiFiScope is a 10x to 200x handheld microscope camera that displays live video images to an iPad, iPhone, and Android device via a free App. It can take pictures, record video and allows the user to measure and calibrate lines, angles, circles and other geometric shapes. The WiFiScope creates a WiFi network connection to an iPad*, iPhone* or Android* device. It has a Li-ion rechargeable battery, which provides ~2-3 hours of continuous power. Illumination is provided by 8 LEDS in the camera and a light dimmer allows variable lighting intensity. The Basic Camera set includes the camera with 10x to 200x zoom lens, a 100x/200x lens tip, small camera stand, charger & cable, calibration ruler and 4 additional fixed magnification tips that produce 15x, 30x, 50x, and 150x.

*iPhone, iPad, Android devices not included. iOS / Android App required. (Available for FREE download from the Apple App Store and Google Play).

Touch this camera directly onto and object or surface. Watch as the live color image on the screen is presented to everyone simultaneously. Just by touching the object with the internally lit lens, you are instantly focusing, illuminating and magnifying the object to your mobile device. It will also zoom from 10x – 200x just by turning a thumb wheel. Our available curriculum and lesson plans are written by expert teachers and are classroom tested. All of these items are available only from STR.
Features:
• Save time with easy set-up, simple thumb wheel for zoom/focus.Compared to a traditional microscope, there is no sample preparation
• Calibration and measurement feature allows measurement at multiple magnifications.
• Provides Photo/Video Export and share functions.
• Magnified object can be displayed on your mobile device
• Cost effective with durable construction and low maintenance.
• Show visual variety with zoom lens feature maintaining interest throughout the lesson.
• Integrates via computer and projector to all digital whiteboards