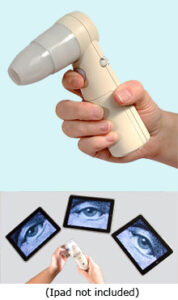 ProScope Mobile was the first Wi-Fi digital camera microscope available. The ProScope Mobile displays live images wirelessly to an iPhone, iPad, or iPod touch. It creates its own Wi-Fi network, allowing multiple devices within range to connect to it and display the live image on many screens simultaneously using the free AirMicro app from Apple. Display any magnified sample to the whole class on multiple screens at the same time from one camera.
Images can be captured simultaneously to all connected devices using the capture button on the camera handset; the images are saved right on the iPad/iPhone/iPod touch for viewing or downloading. The ProScope Mobile is battery powered and uses the same lenses (1x up to 400x) and accessories as the ProScope HR2 and the Scope On A Rope L2.
Education Application:
• Completely wireless, battery powered, and completely portable for viewing anywhere in the world
• View the live image on up to 253 iPad/iPhone/iPod touch or Windows PC's at the same time
• Capture pictures directly to every device viewing the image at the same time, or allows each mobile device or Windows PC to capture images individually
• Easily and instantly share captured images through text/email messaging, or download to a computer
• "Touch & View" lenses allow you to magnify images by touching them with the microscope lens tip. Focuses instantly. No knobs to turn or squinting through an eyepiece.